Plantur 39 Color Brown Shampoo and Conditioner Set
Cleanses the scalp to promote natural hair growth
Conceals grays and light roots
Strengthens thinning hair
Drug free
Wash In Color and Fullness
Shampoo:, Water, Sodium Laureth Sulfate, PEG-3 Distearate, Sodium Cocoamphoacetate, Cocamidopropyl Betaine, Sodium Chloride, Caffeine, Coco-Glucoside, Glyceryl Oleate, Panthenol, Propylene Glycol, Polyquaternium- 7, Phosphoric Acid, PEG-120 Methyl Glucose Dioleate, HC Blue No. 2, Sodium Hydroxide, Polyquaternium-10, 2-Amino-6-Chloro-4-Nitrophenol, Citric Acid, Camellia Sinensis Leaf Extract, Zinc PCA, Niacinamide, Tocopherol, Vegetable Oil, Phenoxyethanol, Sodium Benzoate, Fragrance, Hexyl Cinnamal, Limonene, Linalool, Citronellol, Conditioner:, Water, Cetyl Alcohol, Behentrimonium Chloride, Caffeine, Fragrance, Phenoxyethanol, Citric Acid, Hexyl Cinnamal, Persea Gratissima Oil, Methylparaben, Limonene, Ethylparaben, Basic Blue 99, Zinc PCA, Niacinamide, Phytosterols, Linalool, Basic Brown 16, Propylparaben, Olea Europaea Fruit Oil, Basic Brown 17, Citronellol, Sorbitan Oleate, Ascorbyl Palmitate, and Tocopheryl Acetate
Ingredients in focus
Phyto-Caffeine Complex
Caffeine, zinc, and niacin energizes hair, soothes the scalp, and gives the hair a fuller look.
Vitamin E
This vitamin has natural antioxidant effects and may support a healthy scalp.

White Tea Extract
Coming from the camellia sinensis plant, this extract nourishes strands and is known for its anti-aging properties.

Vegetable Oil
Especially beneficial for damaged hair, vegetable oil helps condition and retain moisture.
Hair regimen as a routine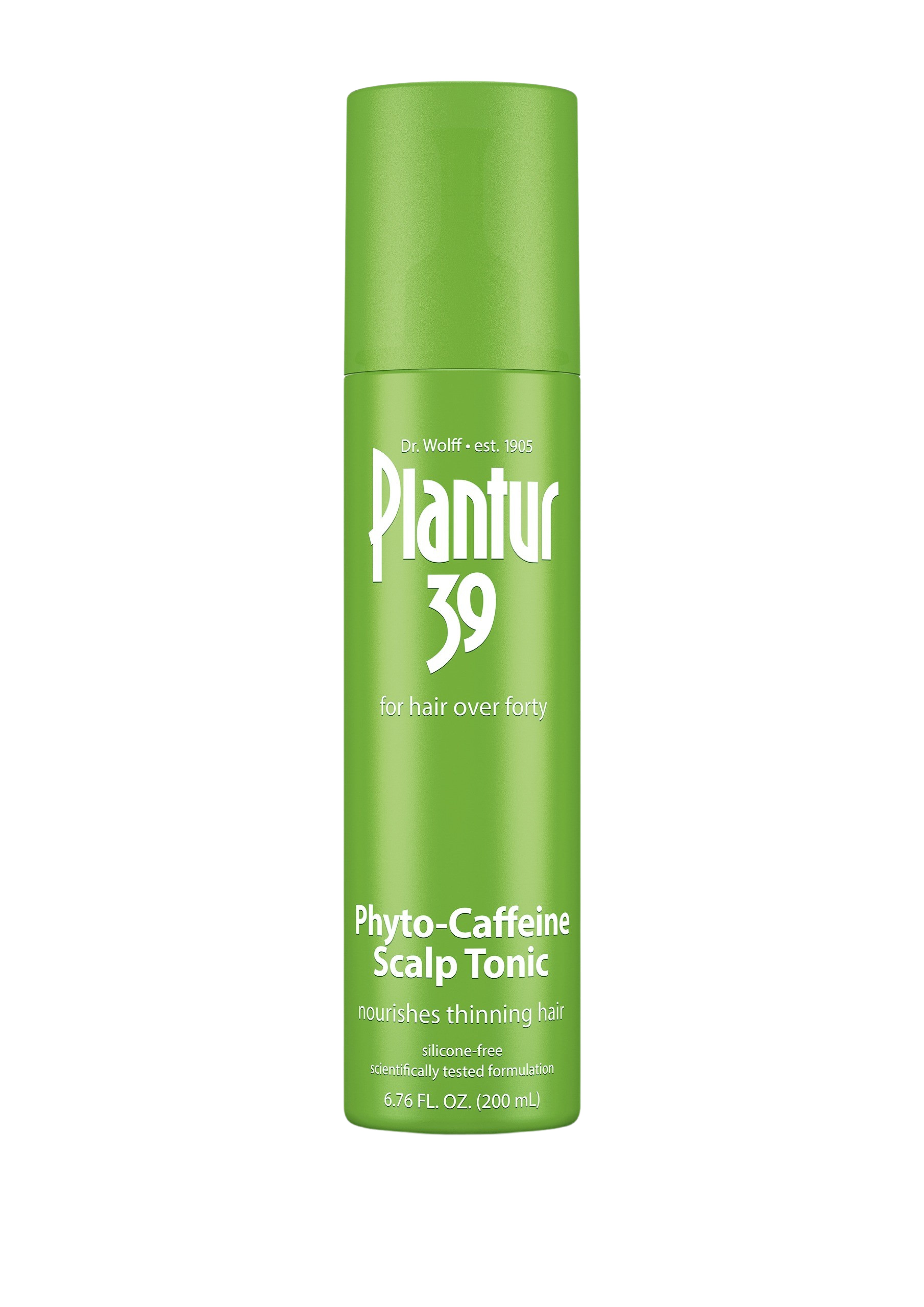 ''I've been using the shampoo and scalp tonic for about 6 months now, I will never go without these products! They really work!''
"I find its easy to use! It works and I like it better then the rest I've tried and my hair doesn't feel like straw."
"I just started using and already like how it makes my hair feel. My hair feels soft and a little fuller!"
Frequently asked questions
How long does the color effect last?

The Plantur 39 Color Brown line contains strong dyes that attach onto the hair and continue to build intensity with each wash and will gradually wash out with conventional shampoos. To keep the desired color intensity, continue to use the shampoo each time you wash your hair.
How often should I use Plantur 39 Color Brown?

For best results, the Plantur 39 Color Brown line should be used daily. If you do not wash your hair everyday, you can use the Plantur 39 Color Brown shampoo and conditioner every time you wash your hair allowing the color to build and achieve the desired color intensity. Then use the Plantur 39 Phyto-Caffeine Scalp Tonic in between shampoos to nourish thinning hair. The Phyto-Caffeine Complex deposits last 24 hours and needs to be applied daily for thinning hair.
Why do I have to leave in for 2-5 minutes?

For best results, it is highly recommended you leave the shampoo lather in for 2 minutes as so the Phyto-Caffeine Complex and color deposits can take maximum effect.
Just got a haircut 2 weeks ago & are in need of another. Used both products 5 min. each day. Hair is growing very quickly & shabby. Maybe that's a good thing. I'm 72 yrs. young & I guess a little more hair won't hurt a thing. !!!!